Deceiving domain - mywebsearch.com
Type: Browser Hijackers
Mywebsearch.com is a questionable search engine that can display misleading search query results and harden the user's browsing sessions by providing the false information. The browser hijacker is responsible for such changes of the search engine but it also initiates modifications on the web browser's homepage and new tab URL bar. When this happens, the user is forced to use the modified web browser unless he/she deletes the browser hijacker and all the additional content that it might have brought to the computer system and web browser apps. 
Mywebsearch.com is an unreliable application that can initiate the recording of non-personal information and even some personal details regarding the user's email address, mobile phone number, username, etc. The app employs tracking objects such as cookies, pixels, and beacons to collect such type of data. However, this is not the end of its suspicious activities.
The browser hijacker can also get the user involved in targeted advertising campaigns by providing pop-ups and pop-unders during browsing sessions. Some of these ads can carry questionable offers of rogue computer software or load various surveys and scams. Furthermore, mywebsearch.com can initiate redirecting sessions to affiliate domains some of which might appear to be potentially dangerous and infected with malware.
| | |
| --- | --- |
| Name | mywebsearch.com |
| Type | Browser hijacker |
| Activities | Changing major browser settings such as the search engine, homepage, and new tab URL, displaying advertisements during browsing sessions, redirecting the user to sponsored domains, collecting non-personal and some personal information |
| Danger | Even though this app is not considered to be a dangerous malware form, it can cause some harm indirectly by taking the user to a potentially malicious website |
| Detection | According to VirusTotal, the app has been detected as a suspicious one by Avira antivirus |
mywebsearch.com violations
2CR-015:
The browser hijacker has been detected as a suspicious program by Avira antivirus, according to VirusTotal information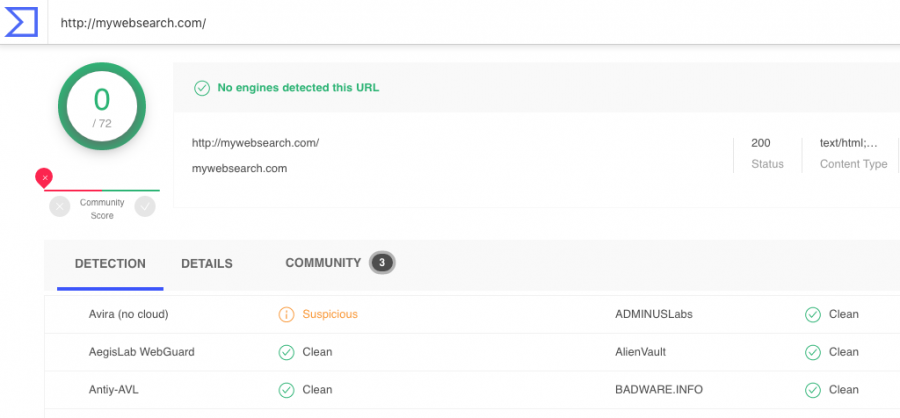 2CR-004:
The app modifies majors web browser settings such as the default search provider, homepage, and new tab URL bar