Deceiving domain - fapmeth.com
Type: Adware
Fapmeth.com is a suspicious domain that bombards users with redirects and advertisements. Browser helper objects such as add-ons, plug-ins, and cookies are also added to web browsers such as Google Chrome, Mozilla Firefox, Safari.
Continuously, Fapmeth adware will likely deliver bogus offers and deals for gaining income. Developers intensively promote the pay-per-click technique when money is gathered from each click made by the user on the provided ads.
The potentially unwanted program gets delivered in unprotected software packages or might be met on unsecured networks such as Cnet, Softonic, and similar. Avoid this adware if you want to keep your computer and browser functioning with full quality. If the PUP ever appears, use reliable antimalware software to terminate the threat safely and successfully.
| | |
| --- | --- |
| Name | Fapmeth.com/Fapmeth |
| Type | Adware application/potentially unwanted program |
| Tasks | After receiving this adware on your computer, you will supposedly experience intrusive advertising and redirecting activities. Besides, the PUP can use cookies for tracking your browsing sessions |
| Spreading | Bundled software downloaded from third-party sources such as Softonic, Cnet increase the chances of receiving the adware on your computer/browser. Vulnerable websites also might distribute adware in links or ads |
| Browsers | Google Chrome, Mozilla Firefox are the most affected browsers. However, the adware might also appear on Safari and others |
fapmeth.com violations
2CR-015:
Fapmeth.com is detected as a malicious website by Malwarebytes and other AV engines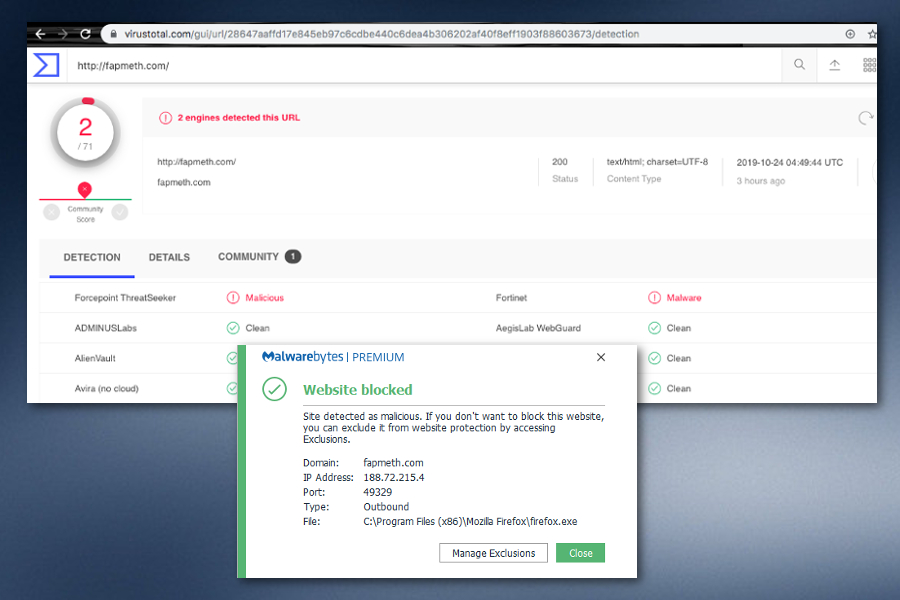 2CR-004:
Fapmeth causes numerous redirects and does not let browse normally