Deceiving domain - bitsecureav.com
Type: Adware
Bitsecureav.com is used as an official website for distribution and promotion of BitSecure AV software, which is also considered to be a potentially unwanted program that specializes in tricking users that their computers are infected or damaged, regardless their real state. According to the developers, the application is an all-in-one solution for every PC users, although its benefits are questionable - BitSecure AV does not have its own AV engine and uses Avira's instead. Also, the built-in registry cleaning function may delete entries that are needed by the system and cause damage to it.
On Bitsecureav.com, users are also offered to buy a full version of the program, and while the stated price is $39.95, it is only later mentioned that this is a recurring subscription that will automatically renew. Additionally, there is no information about the frequency of billing on the checkout page.
Bitsecureav.com includes two badges that claim that BitSecure AV was certified by  AppEsteem and Checkmark certification bodies, while no proof is provided. AppEsteem included the app into its deceptor list, although users are no notified about that on the official website.
| | |
| --- | --- |
| Name | Bitsecureav.com |
| Purpose | Bitsecureav.com serves as the main site that promotes and distributes a potentially unwanted program BitSecure AV |
| Developer | Digital Protect Services S.R.L. |
| Deceptors | The site claims that software promoted is AppEsteem and Checkmark Certified, although no evidence is provided; After the scan is performed, BitSecure AV claims that found issues may be "critical to Windows performance" and actively tries to make users purchase the full version of the app |
| Detection | The installer promoted on the site is recognized by 6 AV engines on Virus Total (10/28/2019 results) |
bitsecureav.com violations
ACR-017:
Bitsecureav.com shows fake badges of AppEsteem and Checkmark certifications without providing evidence that these certifications are valid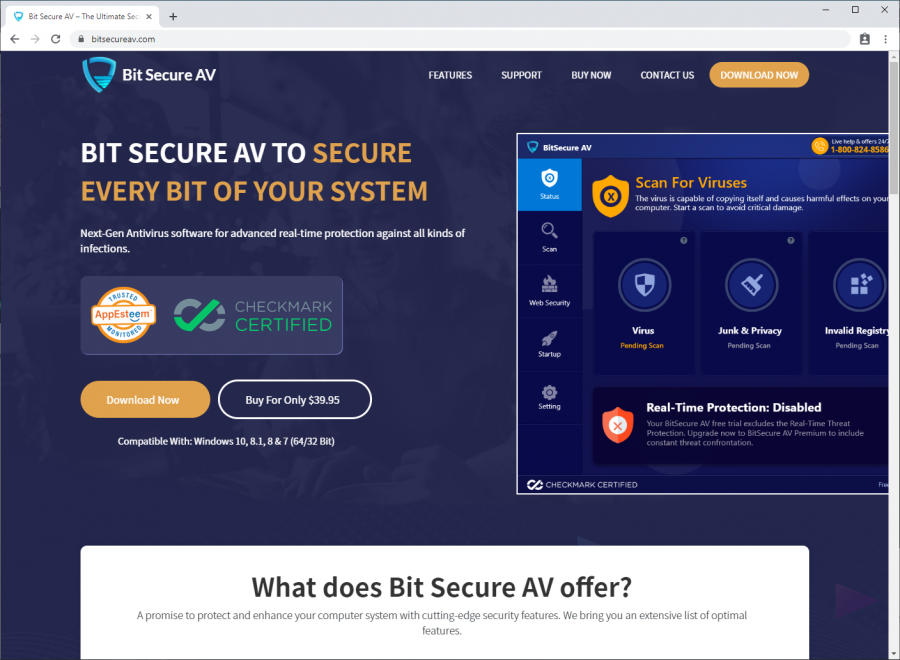 2CR-015:
Bitsecureav.com promotes an installer that is recognized by several AV engines as unsafe or malicious