Deceiving domain - soc-rets.fun
Type: Adware
The website soc-rets.fun is a page that shows false claims about the monetary prize and tricks people into revealing their information to online scammers or even malicious actors. Once redirected to the domain pop-ups, blinking images, music, and other flashy content reveals that you have been chosen as a winner in Like of the Year Award lottery for your likes and comments on social media. 
Pop-ups on soc-rets.fun can claim that you got the message due to the activity based on your IP or another identifiable information, but this is nothing but a scam that is caused by the adware-type cyber infection. Additional browser windows get open, new tabs, and pop-ups fill up the screen to keep you believing that reward can be refunded.
Scammers use social engineering and even relies on fake customer support person that appears to be sending you messages about the ways to get the cash prize. Unfortunately, when you reveal your personal information or even credit card details, you can get targeted by the more dangerous scam, when all that information gets collected.
| | |
| --- | --- |
| Name of the site | Soc-rets.fun |
| Claims about a scam | Like of the Year Award |
| Type of the threat | Adware/ redirect virus |
| Distribution | Freeware installations include such PUPs as additional installs and surfing on deceptive pages can trigger the automatic downloads of adware, browser hijackers, other cyber threats. The link to the domain gets placed on spam emails |
| Additional tactics | Emails with links to this site and other domains delivering the same award scam notification |
soc-rets.fun violations
2CR-015:
The domain is included in anti-spyware tool database
2CR-013:
The page shows misleading messages to keep the visitor on the site and tricks into clicking on the content with flashy images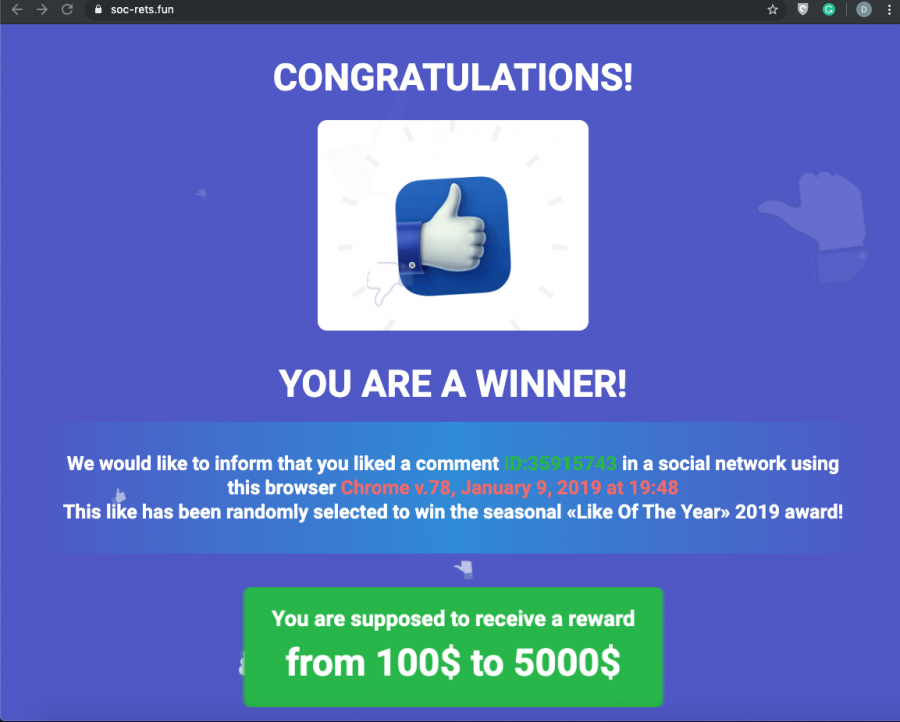 2CR-007:
The site shows false support team messages to keep the user engaged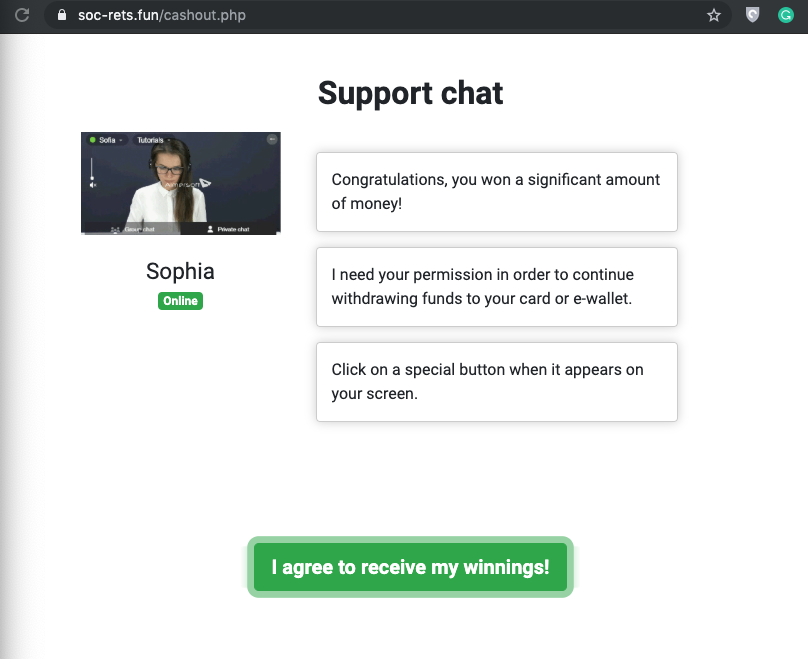 2CR-001:
A website delivers pop-ups and flashy content, reward claims that keeps the user clicking on the page