Deceiving domain - flv2mp3.by
Type: Adware
Flv2mp3.by is a bogus domain that promotes a third-party file converter. If you ever visit this website or get Flv2mp3 converter from it, you can start suffering from an enormous amount of advertisements. Besides, this URL has affiliates that also might start interrupting your browsing sessions.
Continuously, flv2mp3.by virus might act as a reliable converting tool but it truly is classified as adware. These programs tend to benefit from the pay-per-click scheme where targeted advertising is involved. The developers use tracking components such as cookies, beacons, and pixels to record user browsing data and find out what type of deals are relevant at the moment.
Flv2mp3.by might appear on any type of web browser, including Chrome, Firefox, Edge, Explorer, and Safari and fill these apps with BHOs such as extensions, plug-ins, or add-ons. Note that browser cleaning is also a necessary step when trying to eliminate the PUP permanently.
| | |
| --- | --- |
| Name | flv2mp3.by |
| Type | Adware program/third-party file converter |
| Act | The rogue app acts as a reliable mp3 converter to trick users into downloading its app |
| Aim | Adware apps aim to gain benefit from targeted advertising |
flv2mp3.by violations
2CR-001:
The suspicious website provides users with bogus deals and offers

2CR-003:
The app's Privacy Policy claims that users' browsing data is recorded while using the services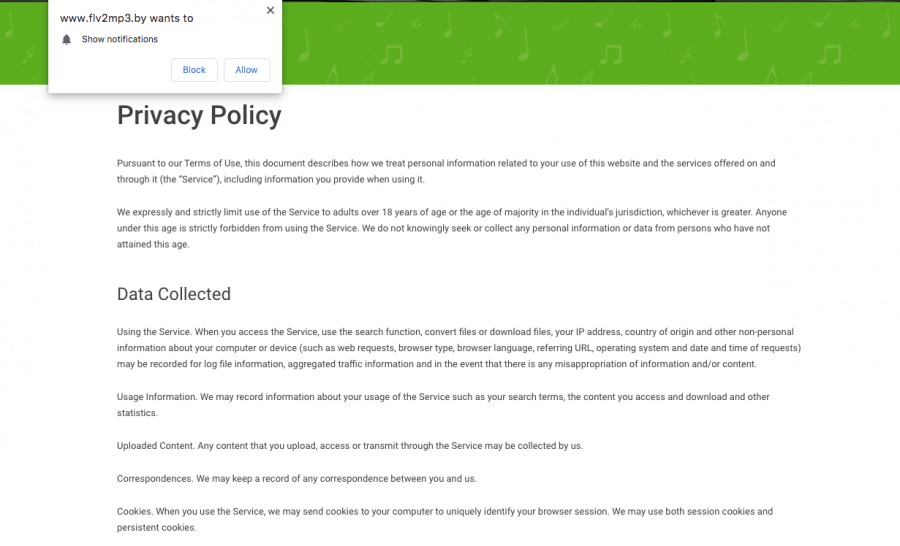 2CR-015:
The bogus domain has been listed as potentially suspicious by cybersecurity sources