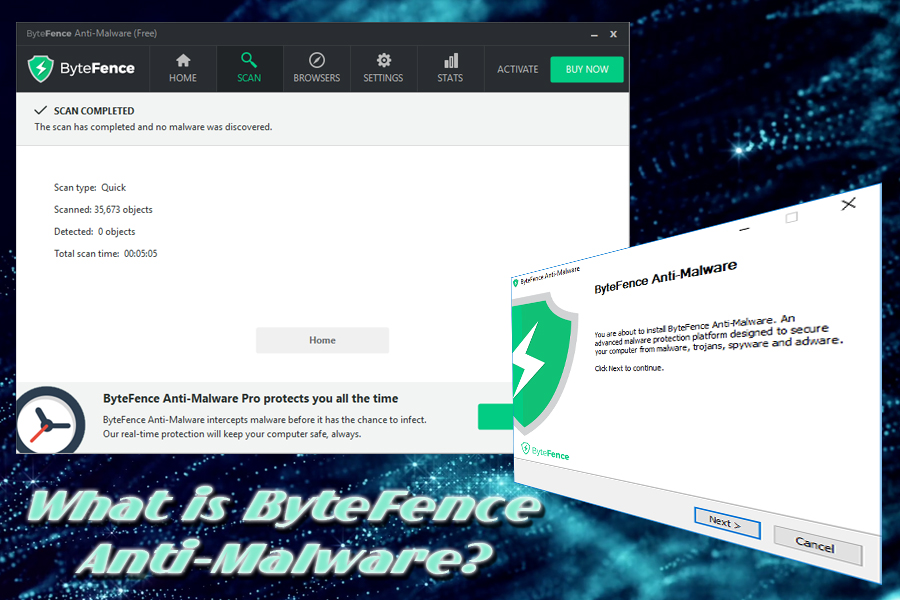 ByteFence is a legitimate program which removes computer threats
ByteFence is security software designed by Byte Technologies LLC. According to its developers, the program can get rid of adware, spyware and other unwanted programs. Nevertheless, in some cases, this anti-malware tool can be distributed using software bundling – a not so straightforward, yet legal, marketing technique used by free software developers.
Nevertheless, ByteFence is suggested for free, and there is a quick way to avoid its installation if it is offered as an optional install. Users should not pick Recommended or Quick installation mode when installing freeware or shareware and untick all the optional components in Advanced or Custom settings before the installation of the software is complete.
Due to this questionable distribution technique, some users may assume that the program is suspicious, as it appeared on the PC "out of nowhere." Well, that is not true, and the user is the one letting additional programs in. Despite all this, ByteFence may be a useful tool that can get rid of nasty viruses and protect machine in the future.
What ByteFence has to offer
ByteFence is offered as a free version, which is capable of finding and removing trojans, spyware, worms, as well as Pro version that is equipped with real-time protection feature. This tool is handy as it can prevent dangerous viruses from entering the machine and delete threats permanently.
Nevertheless, developers do not mention that the software can protect users from ransomware – one of the deadliest malware around. Thus, it would be a good idea to employ anti-virus software which is capable of preventing ransomware attacks.
ByteFence is designed to deal with browser hijackers,adware, crapware, and other less harmful applications that target Google Chrome, Internet Explorer, Mozilla Firefox or Safari browsers. For example, the program has Browsers section, which has an analyzer capable of evaluating components installed on each of the browsers, as well as detect the security risk level.
What is more, it is easy to deal with detected threats – all users has to do is to click "Fix Checked" and the program will take care of everything automatically (for example, if a browser hijacker is detected, ByteFence will remove the unwanted application and recover all the default settings with just one click).
Conclusion
ByteFence is a useful application for anybody who wants to add extra security to their computer. It is a lightweight, easy-to-operate, add-free security program which can help with dealing with (mostly) browser affecting unwanted programs. The downside is that the app can sometimes detect items that are not harmful at all, or fail to stop the most dangerous threats, like ransomware.