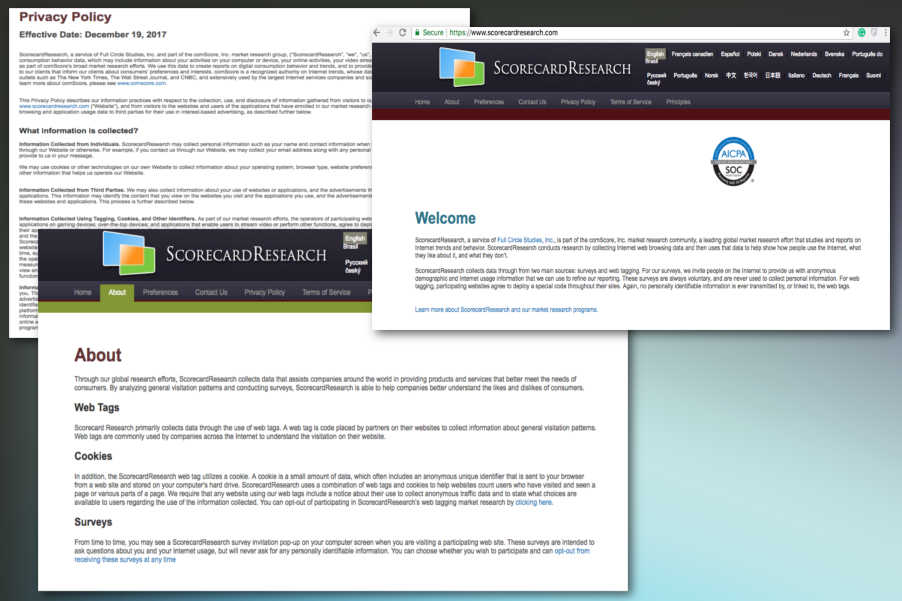 ScorecardResearch: adware program that is known for acting maliciously since 2012
There is plenty of suspicious services that offers various useful features, but in the end, it is nothing just an unwanted program. These programs also can come without your knowledge during insecure installations. ScorecardResearch has a purpose of collecting information from visitors to help advertisers create their content. Innocent users get suggestions to fill out various surveys, and all that entered data is later shared with companies. This program became all active again after a long time since it first raised researchers' attention as acting maliciously in 2012.
This site claims to help companies cater to a particular user and their interests, needs. This website and related applications act like typical adware program. This means that if you have ScorecardResearch virus, it displays various advertisements and redirects to affiliated sites. That is the most disturbing thing after all the data tracking.
Unfortunately, these marketing platforms misused for showing misleading ads about sales and offers, discounts, deceptive competitions. People do not realize that after one click they get tricked into visiting possibly dangerous websites. This behavior increases the sales on those pages and generates the revenue for the advertisers that are sponsoring ScorecardResearch and similar apps.
The danger behind data tracking
Adware programs, browser hijackers and other cyber intruders can collect, track and store various user data. It is known, but why this is harmful? Different PUP developers target different people and companies. This means that they know what they want to get from that specific group of people. There is also more harmful types of malware which are designed to track keystrokes and share banking information with cybercriminals.
This information may vary from the intruder to intruder. Most of these adware programs collect IP addresses, location, search queries and browsing habits. This information is non-identifiable. However, if you enter your email address or more personal information in a questionnaire provided by the scammer, you may reveal too much personal information. This may lead to privacy issues, even identity theft.
Knowledge is the best option when it comes to infection avoidance
If you know that there is a possibility to get a cyber infection, you can be aware of that and make sure you take precautionary measures. If you know what to expect and avoid, you can keep your PC system and privacy safe. It is that simple. Paying enough attention to ongoing processes, choosing your software providers wisely and carefully can make a huge difference.
These programs come silently, in most cases, and without peoples' consent. If you choose Advanced settings while installing applications, you can see what you are getting on your device and control the process by de-selecting suspicious additional programs. Also, remember to keep your antivirus and anti-malware programs up-to-date. Occasional system scan can never hurt.