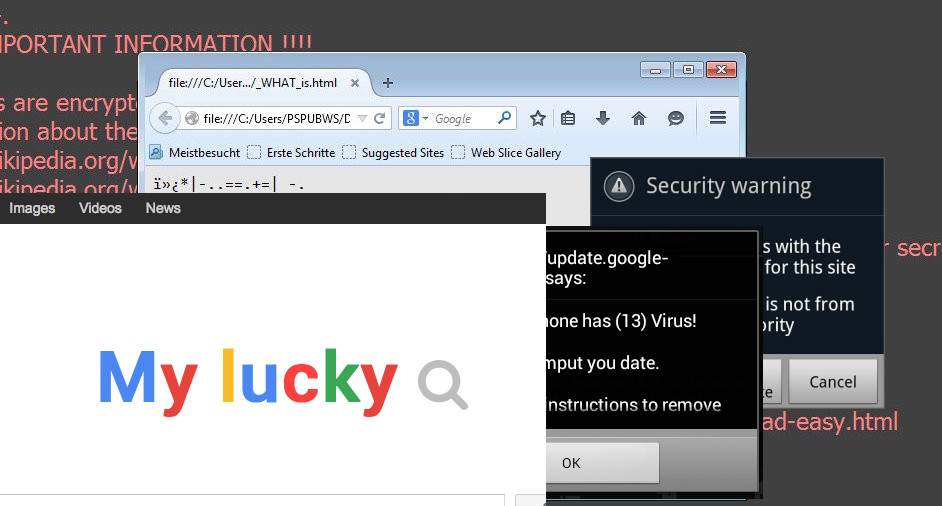 Last week we reported about the fourth version of Cerber ransomware which showed up during the first days of November. In fact, security experts detected several versions of the same threat that are sharing almost identical ransom note and functionality. They all promote Cerber decrypter that costs from 0.1188 Bitcoin (≈ $84) to 0.2376 Bitcoin (≈ $169). However, Cerber wasn't the most active threat of the last week. The most active threat is considered Android virus and one of its versions which has been named as Svpeng ransomware. It is known that this Android ransomware has already affected more than 300,000 devices. It shows officially-looking lockscreen that presents itself as FBI warning message. Please, do NOT pay the ransom which is asked by Android virus and see its removal methods in the link given above.
According to PC security professionals, you should also be careful with several browser hijackers that were included to the list of "potentially unwanted programs" in the end of summer. Last weeks was noticed a clear increase in such viruses as mylucky123.com, web-start.org and 4yendex.com virus. If you are infected with one of these threats, the main thing that you should do is to run a full system scan with the reliable anti-spyware. In this case, you need to uninstall all components that belong to these browser hijackers. Otherwise, they can reinstall themselves right after you reboot your computer.
If we tried to point out the most dangerous threat of the week, we would give our votes to Thor ransomware. Make sure you stay away from this version of Locky virus that was introduced several weeks ago. It seems that the amount of its victims is still growing, so you should be careful with infected email messages that are considered the main method used for spreading ransomware. If an email message came from unknown sender and has "ReceiptXXXX" subject added to it, there is no doubt you are dealing with hackers. You should remove such email right away to protect your computer from ransomware.